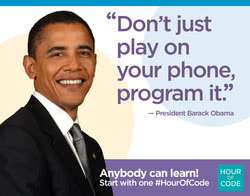 This Friday, December 12th, TechSoup's NonProfit Commons in Second Life will feature Jeroen Frans (Frans Charming in SL). With this week being Computer Science Education Week (Dec 8-14), he will present an overview on the Hour of Code initiative, along with a how to on starting off with LSL scripting, and a chance to write some code yourself.
About the Hour of Code
Computers are everywhere, but fewer schools teach computer science than 10 years ago. Good news is, we're on our way to change this. If you heard about the Hour of Code last year, you might know it made history. In one week, 15 million students tried computer science! The Hour of Code is a one-hour introduction to computer science, designed to demystify code and show that anybody can learn the basics.
Join us in Second Life!
Nonprofit Commons Weekly Meeting
Friday, December 12th, 8:30 AM PT / SLT
Plush Nonprofit Commons Amphitheater
AGENDA (all times below PT)
8:30 am Introductions
8:40 am

TechSoup

Announcements
8:45 am Mentors Central
9:00 am Featured Presentation –

Jeroen

Frans

(

Frans

Charming in SL) and Hour of Code
9:45 am Open

Mic

/ Announcements
The mission of the Nonprofit Commons in Second Life is to create a community for nonprofits to explore and learn about virtual worlds, foster connections, and discover the many ways in which nonprofits might utilize the unique environment of Second Life to achieve their missions.
Written by: Rhiannon Chatnoir